---

ELECTRO-PHOSPHATE PRECIPITATION is a fullfledged, environment-friendly technique for phosphate removal from wastewater without the use, or involving only minimal use, of chemical precipitants. This technique has been successfully used for many years and optimised to ensure compatibility with most sewage treatment plants without any major revamping efforts.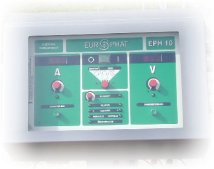 The EUROPHAT ELECTRO-PHOSPHATE PRECIPITATOR controls several electrodes, which are usually installed inside the aeration tank. pH shift and ion migration cause the phosphate to be bound up into a salt, which may subsequently be eliminated together with the excess sludge.
The EUROPHAT ELECTRO-PHOSPHATE PRECIPITATION is an ecologically and econogically innovative technology for the future!
Along these lines, the EUROPHAT ELECTRO-PHOSPHATE PRECIPITATOR is a vital contribution to the sustainable management of our most crucial resource: NATURE!


---